KAMAOLE NALU MAUI, HAWAII
THE PLACE TO STAY.
By John K. Darling
For the past two years we have journeyed to Maui, Hawaii for sun and golf. We stayed at the Kamaole Nalu Vacation Rentals in Kihei. I always smile when I hear of people paying $200 or more a day to stay in some hotel. The units at Kamaole Nalu are two bedroom, two bath, with balconies and fully equipped kitchens. Click on their link www.kamaolenalu.com for views of the rooms, and the beach and pool from the balconies. Toll free 1-800-767-1497.
The prices range from $135 a day in the low season (May 1 through November 30) to $215 in high season (December 1 through April 30). During high season you will enjoy the annual migration of whales, which you can see from your balcony. We always stay in unit #405, which has just undergone a $30,000 remodeling. We also get a really good deal. My wife's parents own the unit.
We enjoy snorkeling, and some of the best on the island is right out from the property. We have seen lobster, eel, a family of sea turtles, and an occasional dolphin not to mention colorful tropical fish. The island of Molokini is in sight, and local boat tours go there daily from a boat ramp within a mile of the property.
Restaurants abound and many have early-bird offerings. The Waterfront restaurant is one of two on the island that is reputed to have the best seafood, and they have a one free with one early-bird special. Be sure to call them ahead of time to make sure the offer is still on. In the past they might advertise a code word or saying to get a BOGO. One time we had to just tell them "we have not seen any whales today," and we enjoyed one free with one.
While you can get a peek at Kamaole Nalu through their web site, they can't give you this one. A Hawaiian sunset. They are different every night and breathtaking.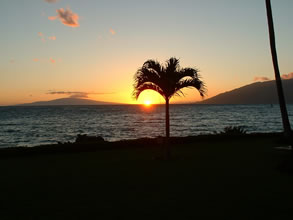 Enjoy your trip: john@SeniorFriendlyGolf.com