MAGIC MASSEUSE
http://www.magicmasseuse.com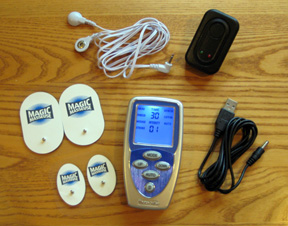 One of the most impressive products I was introduced to at this year's Las Vegas PGA Merchandise show was the Magic Masseuse. This company's objective was to enter the golf merchandise marked. I believe they accomplished this and their success will be even further enhanced if they exhibit at the big show in Orlando, Florida in January.
Magic Messeuse, with its Thera-pulse device. Is a natural for golfers. Be sure to visit their web site for more information
http://www.magicmasseuse.com
.
I have professional physical therapy weekly for lower back pain, arthritis, and to develop flexibility for my hips. The clinic where I get my therapy uses a device similar to the Thera-pulse on my visits. Now I have virtually the same device to use at home. In fact, when I do the daily exercises prescribed by the clinic, I often end up with back pain from the execises. No problem. I just hook myself up, relax and let the pain drift away. I often experience lower back pain after rounds of golf and when I get home I use the product then too.
About the Magic Messuse, it has seven electro-magnetic settings that can be adjust to the level of sensitivity comfort best for you. The settings are as follows: Knead, Parego, Massage, Cupping, Stroke, Acupuncture and auto. The duration selected lasts 30 minutes but you can turn it off any time you like. I enjoy using all the various settings, but cupping is my favorite.
I have several concerns. First, the name Magic Messeuse. This is a good marketing name for the broad general public, but something like "The Messeuse," with "Thera-pulse home physical therapy," might work well for them. The pads that are placed on the areas needing therapy are very sticky to the touch. Future pads might do well to have an extension or tab that does not have the sticky pad under them. Lastly, when using on a person unfamiliar with this therapy, they should be advised that they will feel an electrical impulse. Even though the initial impulse may be low, it may startle them if not forwarned.
Bottom line is that I recommend this heartedly product. You will find it relieves pain and will provide you with an enjoyable experience every time you use it.